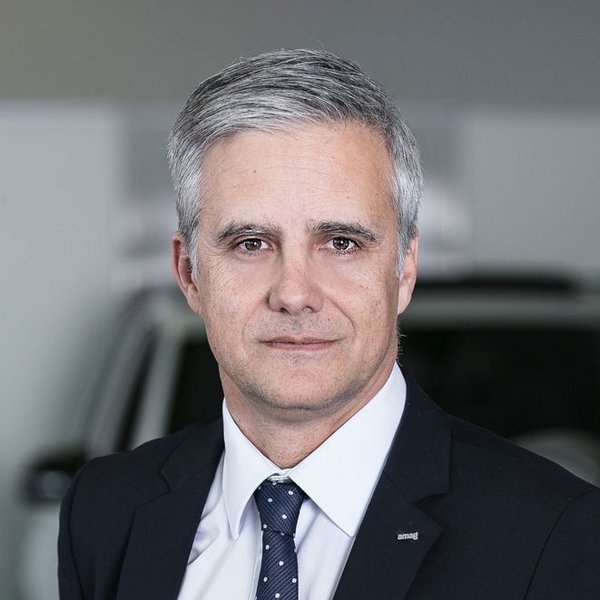 Dino Graf
Leiter Group Communication, Responsibility & AMAG Brand Management
AMAG Group AG
Alte Steinhauserstrasse 12
6330 Cham

Telephone: +41 44 269 53 00

Dino Graf war nach Abschluss der Höheren Pädagogischen Lehranstalt als Realschullehrer tätig, bevor er 1989 als PR-Praktikant zur AMAG Gruppe wechselte. Nach einem Stage bei Volkswagen in Wolfsburg (Deutschland), übernahm er die Verantwortung für die Kommunikation der Marke "Porsche" und 1995 zusätzlich für "SEAT". Seit 1998 zeichnet Dino Graf für die klassische Unternehmenskommunikation der AMAG Gruppe verantwortlich, von 2007 bis 2012 zusätzlich auch für Sponsoring und Werbung. Seit 2012 verantwortet er als Mitglied der Konzernleitung mit seinem Team neben der Unternehmenskommunikation auch das Markenmanagement, Public Affairs und die CSR-Aktivitäten des gesamten Unternehmens. Er hat einen Executive Master in Corporate Communication.
Zusätzlich ist er Präsident der e'mobile, Fachorganisation für eine energieeffiziente Mobilität, Vorstandmitglied von Electrosuisse und des ACS Mitte sowie Mitglied des Stiftungsrates der Stiftung MHMLW, Museum und historisches Material der Luftwaffe.

After qualifying as a teacher, Dino Graf worked as a high school teacher before joining the AMAG Group as a PR trainee in 1989. Following an internship with Volkswagen in Wolfsburg (Germany), he assumed responsibility for communications for the Porsche mark and in 1995 for the SEAT mark as well. Since 1998, Dino Graf has been in charge of traditional corporate communications at the AMAG Group, and from 2007 to 2012 he was also in charge of sponsoring and advertising. Since 2012, he has as a member of Group management been responsible with his team not only for corporate communications but also for brand management, public affairs and CSR activities across the company. He has an Executive Master's degree in Corporate Communications.